Crypto trading is hard.
Most crypto traders lose money because they don't have the time or skills to follow the market and make smart trades.
Most people are only buying and holding crypto, but the real money is made by trading.
The problem is that 97% of traders are losing money, especially if they are using leverage.
This is an in-depth bitsgap review with strategy guides and how we are making money passively every day.
What Is Bitsgap?
Bitsgap Trading Bot is an automated cryptocurrency trading bot that will trade on your behalf. It can be set up in minutes with no programming knowledge required. It trades automatically 24/7, so you never need to worry about missing out on any opportunities.
With this easy-to-use software, you can automate all of your trades and let them run without having to constantly monitor them yourself.
This means more time for what matters most – spending quality time with friends and family, going on vacation, or just doing whatever makes you happy.
Bitsgap trading bot allows you trade spot and futures markets on almost any exchange.
It is the most user-friendly grid bot to be released in the market, and it has already shown great potential for success in growing your crypto assets.
This Bitsgap review will introduce you to bitsgap grid bots, their features, and how they work.
We will also take a look at some of the pros and cons of this platform so that you can make an informed decision before investing your money.
Bitsgap offers Advanced Grid Bots
What is a grid bot?
A lot of traders and investors get nervous when the market is fluctuating. They don't want to make a wrong decision, so they get in and out of trades with small wins and often big losses.
The Grid Strategy exploits the fluctuations in prices that occur on a daily basis. You can make use of this to your advantage by creating multiple orders for different price ranges and timing them when they are most advantageous.
Below or above the current price, you will have all your orders covered. Whether you want to buy low and sell high with a little risk management in between, or if you are looking for more of an asymmetrical setup where one side is significantly less risky than the other – Grid Trading offers something for everyone.
With Bitsgap, you can automate your trading strategy and generate profit even while you are offline. The bots main purpose is to take advantage of any market movement and make sure that orders get placed as soon as there's a change in the price.
It does this by having all orders interchangeable so they always execute on their best execution level possible when prices move for better or worse.
Sounds complicated, but it is a very easy to use trading platform.
What can you trade with Bitsgap grid bots?
Bitsgap has support for most spot exchanges, which means basically ALL crypto coins. You can also trade on multiple exchanges simultaneously.
Many spot exchanges also have leveraged coins for those that want to maximize their grid profits. Currently our favorite exchange is FTX for many reasons.
Bitsgap Currently Supported Exchanges
Does Bitsgap work with Binance?
Yes, bitsgap works with Binance and many others listed here.
Connect as many of your exchange accounts as you like.
Futures grid bot is only available for binance at the time of this writing.
We have tested the futures grid bot and will be covering the futures grid bot in more detail in a separate post. You will want to read what we have to say about this before you play with it.
Basically, the futures grid bot is limited to 15% grid, which is quite smaller than we would like. It racks up massive positions and can wreck your account easily.
If you want to use the futures grid bot, start with small amount and start with 2 or 3x leverage until you understand how it works.
We also recommend using less volatile coins with the futures grid bot.
This article will focus on grid bot strategies for spot markets.
What kind of returns can you expect from Bitsgap Spot Grid Bots?
Our bitsgap review is highly positive.
We have been playing with bitsgap for over a month and find that 0.7% to 2% daily is typical.
We mainly trade futures manually with 20% leverage, so spot bots for us are extremely slow and boring.
However…
We plan to move more and more of our portfolio to the spot grid bots on bitsgap.
Why?
If we can get on average 1% per day in a safe way…
By compounding these results, a portfolio can grow very nicely.
Take a 10,000 account and compound 1% per day for a year….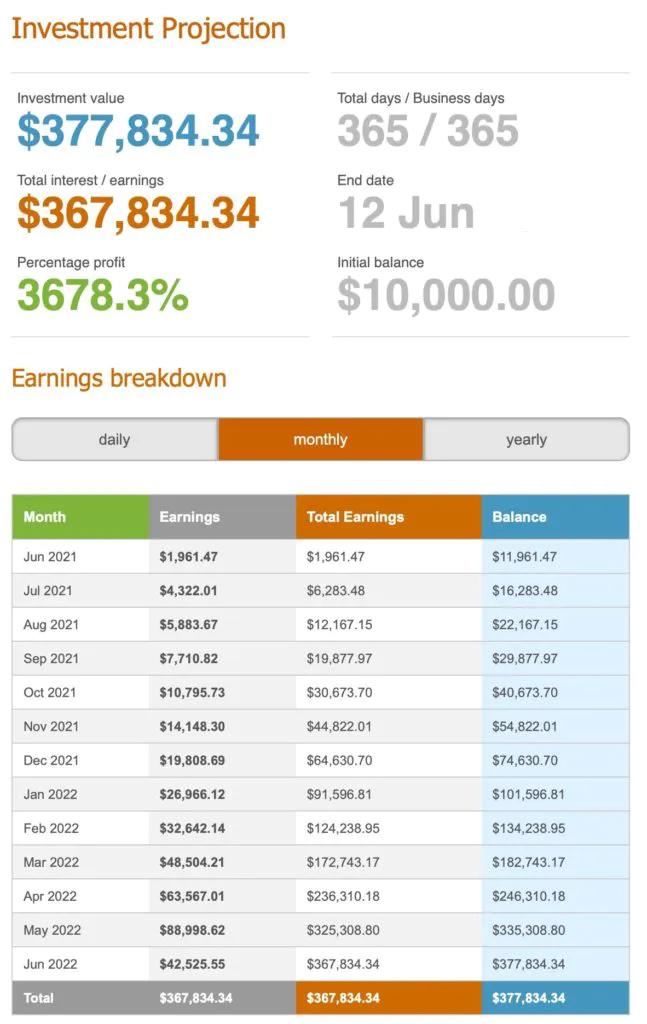 Yes, that is right, you can turn $10k into over $377k in one year if you compound your earnings daily.
Video: How to make 60% per month with Bitsgap
Free Trial Here – 14 Days Full Functional, No credit card required.BitsGap Free Trial + Access Our Group
Use our link and gain access to our private discord channel where members are sharing their best strategies to maximize Bitsgap.
How risky are the spot bots?
In our opinion, they are very low risk as long as you setup a very wide grid.
Bitsgap grid bots provide a very safe automated trading bot.
Here is a current BNB/USDT spot bot that we started running recently.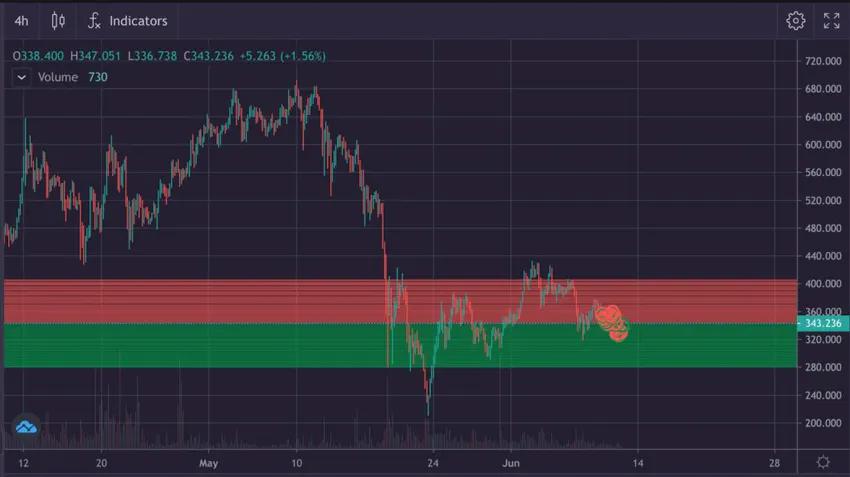 Notice that the market has been in a downtrend recently.
If the market continues down, it will keep buying BNB. Eventually price could fall out of the grid on the bottom side.
We are not concerned as we feel BNB is a solid coin and should recover nicely.
When it does, our profits will be even larger.
Bitsgap Grid Stop Loss and Take Profits
We do not set stop loss and take profit on any of our spot bots. The grid auto-trails up so no need to take profit. We mainly stay in coins we dont mind holding so there it no need for a stop loss.
The Bitsgap Grid Auto-Trails Up
In the image above you can see that the upper part of the grid is not very large.
We did this on purpose.
We always enable the Bitsgap Trailing Up option.
The Trailing Up option is a great way to ensure that your bot will never be stagnant. If prices are continuously increasing, you can move the entire grid by following them with this feature and make it so that your bots work almost indefinitely!
There are currently 2 Bitsgap Grid Bot Built-In Strategies
1 – Classic Bot
A Classic bot always buys and sells a fixed amount of the base currency per order to maximize its return from each completed trade. It does this by increasing volumes as prices go up, which means that it is constantly adapting in response to market conditions with no manual input required on your part.
When should you choose "classic" bot?
The Classic bot strategy exploits the bullish trend of cryptocurrency. On a price rally, this is statistically proven to be more successful than other strategies due to its investment distribution logic which achieves better market exposure as prices climb higher (the classic buys fixed number coins and increases investments on rallies).
2 – SBot (our favorite)
We always run SBots.
The SBot has originated from the Classic bot and the crucial difference is in how it buys and sells.
The SBot always invests the same amount of base currency per grid. This means as the coin goes down, you are able to accumulate more coin at each lower grid.
What Coins should you use with Bitsgap Grid Bot?
We like to mainly use the spot grid bots with solid coins that we feel will grow in value over time.
Here is a list of coins we feel are solid long-term investments…
Import this list as a watchlist in tradingviewhttps://share.getcloudapp.com/QwuA0L6b/download/Solid%20Coins%20Binance.txt
USDT vs BTC pairs
When using the Bitsgap Grid Trading Bot, you can trade basically any coin pair.
Here are some guidelines to help you choose.
1 – profits will always be taken in the base currency
2 – If you want to stack BTC, then trade the coin to BTC pairs
3 – Currently we are trading USDT pairs because BTC is currently in a correction phase and expect BTC to potentially rise dramatically over the next couple of months.
4 – If we are confident a coin can out-perform or hang with BTC, we will trade the BTC pair
The "Set and Forget" Strategy
We use this for 80% of our Bitsgap trading on Spot.
We choose several coins from our "solid coins" list above and make very large grids that can cover a large fall in coin value.
The upper grid need not be too large because of the auto-trail-up feature.
This typically yields 0.7% to 2% per day.
The "Wild Child" Strategy
Choose a low price, very volatile coin and let the grid bot capitalize on the price fluctuations.
This is riskier as these coins may not have very long term value.
We typically allocate about 20% to these because the gains are much higher.
How to check volatility of coins in Tradingview
goto crypto screener at bottom of page in tradingview
filter for your exchange. In this example I filtered for binance
in search I typed tetherus
sort highest to lowest volatility
This should give you a few ideas.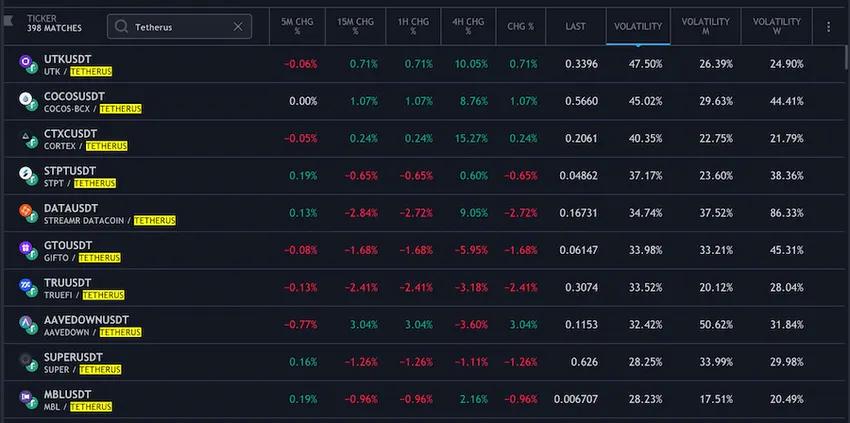 The "Wick Master" Strategy
Normally you hear traders warn to never trade coins with low market cap and low liquidity.
The reason for this is that the spreads can be wide and you can get stuck in a position if there is no-one on the other side of the book when you are ready to get out.
Crazy wicks happen up and down in these markets all the time.
It is impossible for humans to trade these wicks, because they happen so fast.
Bitsgap grid bots crush it when these wicks happen.
Imagine a 30% down wick that your bot can grab coin multiple times on the way down in a split second?
The bot then sells these in profit easily.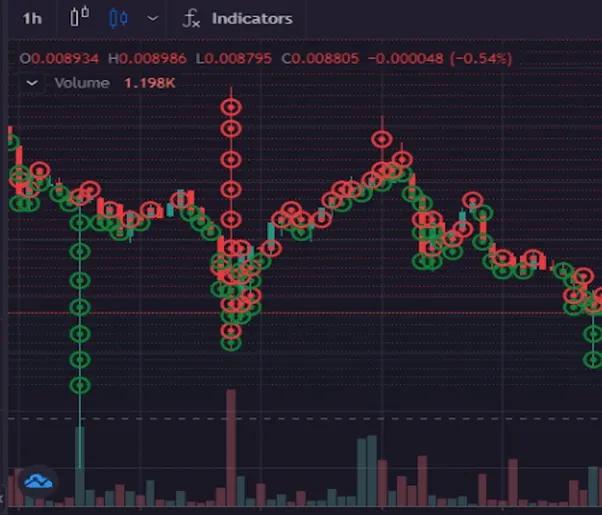 Bitsgap Backtesting
Once you have chosen your coin pair and dragged your gird where you think is ideal, you can tap the backtest button to run a backtest that will give you the results for 3 days, 1 week, and 1 month.
Tweak your grid spacings and overall grid and run it again to find the ideal grid settings for your trading bots.
Video: Bitsgap VS 3Commas VS Bituniverse
Bitsgap vs Pionex
Pionex is a highly reputable exchange with a surprising amount of volume.
Their key selling point is the included bots. They have a number of bots including grid bots that are similar to bitsgap.
The nice thing about Pionex is that you can use their bots for free on their exchange.
We prefer the Bitsgap interface. We find creating and managing our bots more user-friendly than Pionex.
If you like the Pionex interface, you can save some money and just user their bots.
Bitsgap pricing
How much does Bitsgap cost?
Bitsgap pricing ranges from $19 to $110 per month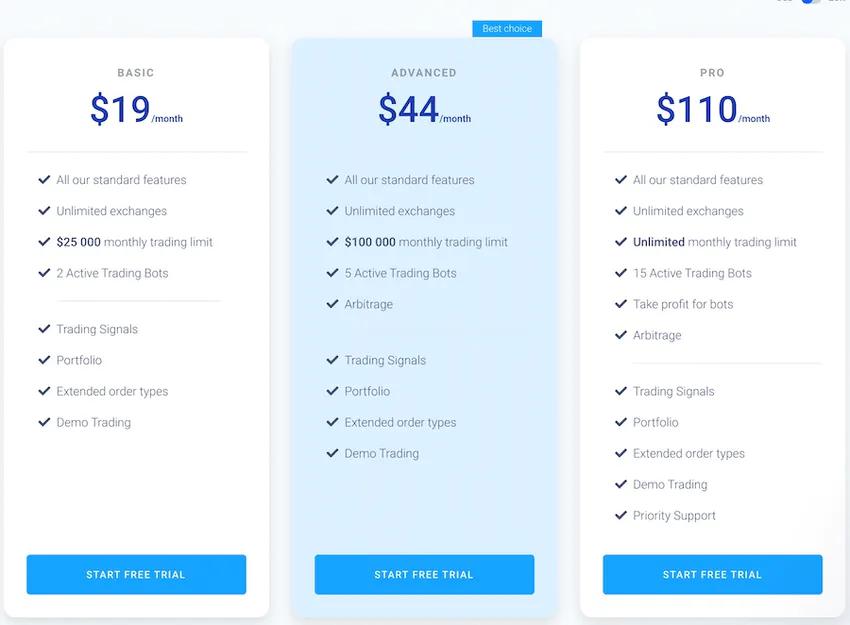 Bitsgap Free Trial
You can get a 14 day free trial with No Credit Card Required
Use our link and gain access to our private discord channel where members are sharing their best strategies to maximize Bitsgap.
FAQ
How do I use Bitsgap demo?
Bitsgap demo is a virtual trading arena that allows traders to come in and trade on the go. They have demo accounts preloaded with simulated money so you can make trades without risk!
You can get a 14 day free trial with No Credit Card Required
Use our link and gain access to our private discord channel where members are sharing their best strategies to maximize Bitsgap.BitsGap Free Trial + Access Our Group
Does Bitsgap have an app?
Bitsgap does not have an app, but works flawlessly on mobile.
Where is Bitsgap based?
Bitsgap is an Estonian based privately held company.
How much does Bitsgap cost?
Bitsgap pricing ranges from $19 to $110 per month.
Does Bitsgap really work?
In our own testing of Bitsgap spot bots we are seeing returns of 0.7% to 2% per day.