Instantly execute trades on Binance, Bitmex and other major exchanges: no more middlemen!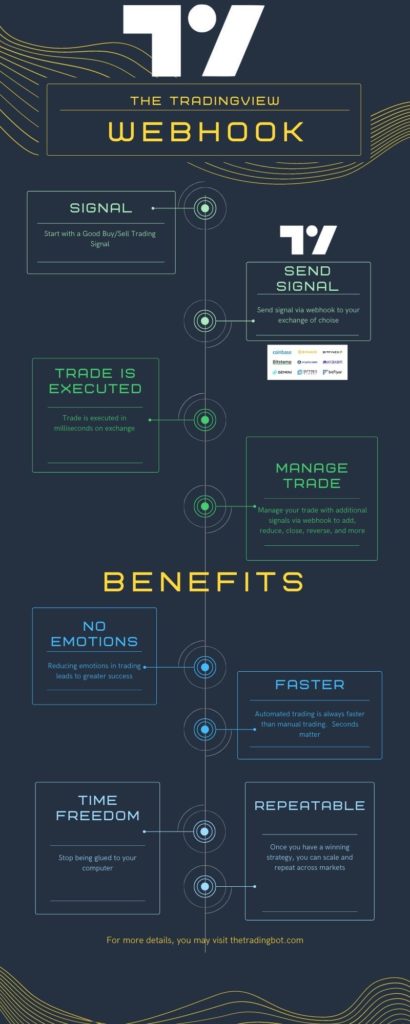 Crypto trading is a challenging game. It's volatile and almost unpredictable. For traders looking to take full control of their trades, notification alerts are one of the best tools to include in their strategies. However, you can't consistently execute your trades in the timeframe you want. That's why Tradingview Webhook is such a powerful tool.
No matter what type of trader you are, the Tradingview Webhook can execute trades automatically for you on almost any trading platform.
This post will go over all of the features and benefits of using the webhook and how to set it up in just a few easy steps.
What Is Tradingview Webhook?
Tradingview is a web-based charting platform that allows you to pull up any stock or crypto chart and instantly draw trend lines, technical indicators, and more. It has a robust API that will enable you to subscribe to trade alerts from your account.
Tradingview Webhook is an extension of that trading platform's API and is explicitly designed to take those signals generated by TradingView charts and execute trades on your behalf.
Why Would You Want To Use A Webhook?
Because cryptocurrency's price is volatile, it's almost impossible to time your trades perfectly. Notification alerts are helpful, but webhooks are your best option if you want to execute the trade as quickly as possible.
Level Up Tradingview Alerts To Automated Trading With The Tradingview Webhook
Never miss a trade again
Automatically execute your trading strategy
Trade with more confidence and less worry about price fluctuations interfering with your strategy. You're in charge!
You set the parameters of when to execute a stop loss and when to take profit, then Tradingview Webhook will send the signal to your broker and open or close position on your behalf. With trading view webhook, you will no longer miss any profitable opportunity.
Cut Out Trading Bot Middle Man
Traders are automating their positions with the Tradingview alerts by building a trading bot using a third-party service. Once their chosen indicator triggers the alert, the trading bot built using a third-party company will execute the trade on their behalf.
The creation of Tradingview Webhook cut out the middle man and make building trading bots much easier. It provides a seamless experience for traders by saving time, money, and energy.
How To Set Up And Configure Your Tradingview Webhook
To set up a Tradingview webhook, you need to have a paid account first in Tradingview as the webhook feature isn't available for free accounts, only with the PRO and Premium plan users.
1) Start by adding new alerts or modifying an existing one. On your Tradingview account, search for your desired cryptocurrency then hit on the alarm icon on the upper left corner of the chart. Then a dialogue box should appear.
2) On that popup, there will be a "webhook" section with an input field labelled URL where you'll put your webhook's address in. Then on the "message" field, you should input the buy or sell script message sent to your chosen exchange when an alert occurs. You can input a plain text message or a JSON message format.
When Should I Use A Tradingview Webhook?
There are many different reasons for using the Tradingview Webhook, but it's most commonly used by traders who want to automate their trades. You can use a Tradingview Webhook as your primary trading strategy or as an added layer of protection against missed opportunities.
If you're too busy to monitor the market and has no time to check your charts and execute a position when your desired condition is met, using Tradingview Webhook is an excellent option.
Things To Be Aware Of When Using A TradingView WebHook
While it is a powerful trade automation tool, TradingView WebHook is limited by the message conditions you set for the alert.
Since you'll automate everything, you'll want to make sure that the alerts are set up properly and have a large enough window of opportunity. This way, you're able to take advantage of any market fluctuation without the risk of missing out on a good opportunity.
Takeaway
The Tradingview Webhook is a powerful trade automation tool that can automatically execute your trading strategy on the platform. As you've seen, it allows you to access market data and information without having to be in front of your computer each time to make trades.
With just one API call, you can automate all of your trading decisions. It has never been easier or more efficient for traders who want control over their portfolio but don't have the time required for manual trading. If this sounds like something that would work well with your current trading strategy, then consider using this tool to take your trading to the next level.